At The Sue Hedley Nursery School your child's wellbeing is really important to us we believe that children gain so much from learning in the outdoor environment. Forest School is when we take small groups of children outside, either in the forest school area on the Nursery grounds or visiting a woodland site nearby. We also have our own community allotment.
During Forest School and allotment sessions children have time to explore the outdoors at their own pace, they are encouraged by the Forest School Leaders and nursery staff to take part, without any pressure, to do activities. We understand that children all learn in different ways and will do all we can to encourage and motivate them, explore alongside them and support their emotional needs.
The children are encouraged from day one of Forest School to develop as much independence as possible for example getting dressed in their outdoor clothing and undressed on their own. To start with it takes a long time but as the sessions progress the children get ready quicker and with lots of enthusiasm, because they want to get outside.
To hear the children say "I did that all by myself" is fantastic, they develop a real sense of achievement and independence, whether it's putting their own wellies on, planting some seeds or peeling a piece of elder with a peeler, as long as they feel good, then Forest School is working its magic, helping to build their confidence and laying the foundations for developing life skills.
The children learn things that they can't get from books or from being indoors. They discover the environment and what we share the outdoors with. They learn about the insects, birds and small animals, finding out about their habitats first hand and what they eat.
Children are often very content, which means they may be tired and hungry after a Forest School session. So if they seem grumpy, its probably because they are tired out and have had a great day!
We work with small groups of children outside, which gives more one to one quality time and more time for observing the children, which helps us to plan further sessions following the interests that we have observed. If the children are forming schema's we can pick up on it and encourage them, for example if a child is showing signs of rotation we can ask them to roll the logs to a certain area with us. Or if they are showing signs of transporting, make bags and pots available for them to collect and carry objects from one area to another.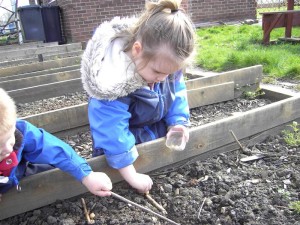 An important part of the Forest School and allotment sessions are developing social skills with the children, sharing food and chatting at snack time is priceless, they really seem to socialise so much more outside, as they have a lot to talk about. Teamwork is very much part of our outdoor practice, everyone helps to carry the equipment outside and back again, set up the area and tidy away. They learn to adapt and improvise, using a log as a seat or table then using it as a ship in a pirate game. The children are  reinforcing the importance of rules as well, as it is made very clear what behaviour is acceptable and where they can go.
FOREST SCHOOL HEALTH AND SAFETY INFORMATION
Risk assessment is a continuous and ongoing process as it identifies the possible causes of accidents and incidents. Detailed risk assessments are available and daily risk assessments are carried out/updated prior to each session by staff.
Staff/children ratios are always adhered to.
Staff carry a mobile phone and a walkie talkie.
A first aid kit is carried during every session and a member of staff is a trained first aider.
Activities are talked through with children at the beginning of each session to set boundaries, remind them of safe behaviour and learn about potential dangers and hazards for themselves.
HOW PARENTS CAN HELP
Ensuring children have appropriate clothing for our Forest School and allotment sessions is a great help.
What is "appropriate clothing"
To protect Children's arms and legs form vegetation, insects, cold or sunny weather they need to wear long trousers and long sleeves, and socks, summer and winter.
We provide wet suits and wellingtons but if your child has wellingtons that they can bring to nursery please bring them.
In summer months sun protection cream should be applied by you before the session and a hat sent along for protection against the sun.
In winter please make sure your child has a warm hat, gloves and warm socks on. (wellingtons can be really cold without them!) they also need a warm jumper or fleece under their coat.